BECOME AN ACTIVE VALOR DONOR TODAY!
GIVE ONCE OR BECOME AN ACTIVE VALOR MONTHY DONOR TODAY!
Most effective way to make a difference
The ongoing support of monthly donors helps to ensure that Active Valor has resources to be there for both veterans and families of our nation's fallen heroes, every single day.
Less stress at the end of the year
By setting up your monthly gift today, you can relax in December, knowing your tax-deductible giving plan is already in place for the coming year!
Easiest and most convenient way to give
Make one monthly gift today, and know your charitable gift is in place for the entire year to come–no further action on your part needed!
You can cancel at any time
If your situation changes for any reason, you can always change or cancel your gift with a simple email to info@activevalor.com.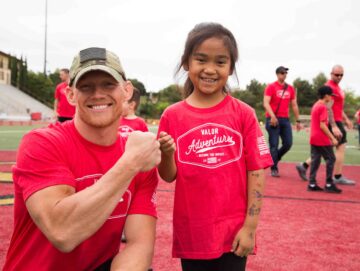 Thank you for your donation!
"During the year we suffer through days like Father's Day, Veteran's Day, Birthdays, holidays, and every days. For our families to have a day where the kids are doing something incredible, and the moms are taken care of, it is truly a gift and will forever leave a lasting impression."
-Gold Star Spouse