BECOME AN ACTIVE VALOR DONOR TODAY!
GIVE ONCE OR BECOME AN ACTIVE VALOR MONTHY DONOR TODAY!
Most effective way to make a difference
The ongoing support of monthly donors helps to ensure that Active Valor has resources to be there for both veterans and families of our nation's fallen heroes, every single day.
Less stress at the end of the year
By setting up your monthly gift today, you can relax in December, knowing your tax-deductible giving plan is already in place for the coming year!
Easiest and most convenient way to give
Make one monthly gift today, and know your charitable gift is in place for the entire year to come–no further action on your part needed!
You can cancel at any time
If your situation changes for any reason, you can always change or cancel your gift with a simple email to [email protected].
Prefer to donate via check?
No problem! We happily accept donations via check. Please make the check out to: Active Valor
MAILING ADDRESS:
1157 W. Mission Ave
#461240
Escondido, CA 92046
Donations have been given in honor of:
LCDR Dwayne Barnett
CPT Christopher James Sullivan
Herschel Blakeman
Chris Thompson
Wayne Wilson
Perry Yee
Brad Shaver
Sgt Lionel Ayro
SSG Toby Mallet
1LT Christopher Barnett
Spc michael s. cote jr.
pfc devon bodenheimer
sgt bradley bergeron
sgt brandon boudreaux
sgt joseph bovia
lcpl billy brixey, jr.
pfc david burridge
cpl marcus cain
cpl willie celestine
spc johnathan bryan chism
cpl andrew chris
cpl andrew chris
lance cpl matthew "cole" estelle
sgm barbaralien banks
sgt timothy cole, jr.
sfc kurt comeaux
spc matthew wade comeaux
capt aaron dale istre
lclp derrick cothran
major ronald culver jr
ssg austin daniel
spc steven dupont
sgt daniel Dupre
lcpl larry wells
sgt robin fell
ssg michael gabel
pfc brandon gallow
sgt corey garver
sgt lee godbolt
pvt mark craham
lcrpl christopher grant
lcpl daniel gueringer
lcpl john hale
tech sgt daniel l douville
coast guardsman jake harrison
pfc chase edwards
spc jordon c soulier
SFC david hurst
lcpl dakota huse
spc jeremy heines
ssg craig davis
spc levi kinchen
sgt jeffrey kirk
lcpl myles sebastien
lt michael scott lamana
cpl chris lebleu
sgt terrell gilmore
cpl kyle grimes
SSG Bryan Lewis
Sgt Joshua Madden
pfc nicholas Mathews
senior airman omar mcknight
lcpl justin mcleese
ssg jacob mcmillan
spc justin mixon
1 lt brandon dronet
SFC john hennen
sgt randy morrison
sgt warren murphy
pvt joshua burrows
sgt christopher soderlund
cpl chad powell
cpl jon bowman
cpl matthew T. Richard
sgt joseph richard III
spc Christian Joseph romig
CPOjacques Fontan
CPL Jared Crouch
PFC Caleb Rushing
Lt Patrick L Ruth
SSG Nicholas P. Bellard
Lt Colonel Heath Kelly
CPL David S Stewart
PO 2nd Class Brandon Jay stone
cwo george d stother
sfc severin summers III
spc joseph thibodeaux III
cwo terry thomas
PFC Nicholas clayton
sgt seth trahan
Sgt taft williams
sgt patrick williamson
ensign van wilson'po2 class Kevin Yokum
spc michael w Mccain
spc bernard sembly II
Petty Officer 3rd Class Lee Deal
spc richard brown
lcpl donald champlin
spc matthew powell
pfc dana grafton-zimek
major michael green
pfc ashton flair
spc joshua robinson
spc nashrya whitaker
aaron vaughn, SEAL
1LT ROBERT BENNEDSEN
CHARLIE CORNAIRE
Duke Nankivel
PRACTICING EXCELLENCE TEAM
MARY SUE EASMEIL
BLAINE BRACKETT
JILL HALLMAN
BRITT DINATALE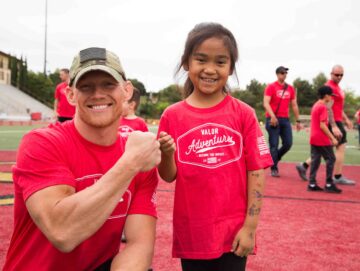 Thank you for your donation!
"During the year we suffer through days like Father's Day, Veteran's Day, Birthdays, holidays, and every days. For our families to have a day where the kids are doing something incredible, and the moms are taken care of, it is truly a gift and will forever leave a lasting impression."
-Gold Star Spouse